Tax News
Below is some helpful information about recent tax law changes and tax updates. You will find links to the sources of the information, helpful articles, and credible resources. If you have a tax topic you would like me to research for you please email me. Richard Bowen, CPA
---
Helpful Tax Links
---
4/30/14 No Medical Insurance Tax Penalty (Individual Shared Responsibility Payment)
As I am sure many of you have heard, this is a tax on people that do not have a minimum amount of insurance coverage beginning 1/1/14, or that do not meet an exemption. The most common exemptions are;
Minimum coverage costs would be more than 8% of your income (qualified)
The gap in your coverage is less than three consecutive months
Other hardships, and belonging to groups that are exempt
The penalty (tax) for not having coverage or meeting an exemption is the greater of 1% of your household income that exceeds the standard deduction (pro rated by total months without coverage), or flat amount of $95 per adult and 47.50 per child limited to $285.
You can read more at the IRS's website.
2/4/14 Registered Domestic Partners
The issue of Registered Domestic Partnerships (RDP), a precursor to same sex marriage, has been on my mind because I have a few clients that are affected by it. I did a little research, and the short answer is that the state of California accepts RDP's, but the IRS does not. I have provided a couple of links, if you are interested in some reading.
IRS Registered Domestic Partnership FAQ
FTB - What if I'm a domestic partner
1/10/14 How the Affordable Care Act (ACA) is Going to Effect You
Commonly known as Obamacare, the ACA is going to affect a lot of people. While one of the most important events in the law (the requirement for everyone to be covered by health insurance) began 1/1/14, there has not been any real, easy to discern, information about how this going to affect the average taxpayer. In addition, most effects will not appear until the 2014 tax year, which is over a year away .
What I have learned is that if you do not get 'Minimum Essential Coverage' as of 1/1/14, you can be penalized on your 2014 tax return under the Shared Responsibility Provision. There are several exemptions that would allow you to escape the penalty or the requirement to get the minimum essential coverage including; religious consciense, indian tribe, no filing requirement, hardship, etc. If you want to know more about the types of plans that you can get, you should visit what they are calling The Marketplace, which is a government constructed portal to find minimum essential healthcare plans that are approved. The Maketplace will also allow you to get an exemption if you need one, and will also help you find information about, and even qualify for, some governement sponsored plans like Medicaid and Children's Health Insurance Program (CHIP).
None of the forms related to the Shared Responsibility Provision (otherwise known as a penalty) are available yet. When the final regulations are understood and forms/calculations regarding the actual penalties are issued I will attempt to provide guidance for our clients and readers.
There is also a Premium Tax Credit, which allows people who qualify, generally if you are low income, to receive a credit based upon the health insurance premiums they pay, as long as the policy is issued through The Marketplace. They can even receive this in advance, which means throughout the year (similar to Advanced Earned Income Credit). Check out the link if you want to learn more.
11/26/13 Additional Taxes that are in Effect
The Additional Medicare Tax of .09% will be added to the wages, self-employment income and other compensation of high wage earners, starter 1/1/13.
Also beware of the Net Investment Income Tax, which is an additional 3.8% tax that affects people who earn over $200,000 ($250,000 if married filing joint).
1/8/13 American Taxpayer Relief Act & Fiscal Cliff
For those of you that follow the news and may be concerned about the American Taxpayer Relief Act (ATRA), which was passed on 1/1/13, you probably do not need to be. I have reviewed the changes that this act addresses and most of the people affected are multimillionaires who are about to die, their children, their spouses, and people who make over $250,000. Note... Most of these people are affected very favorably by the changes made by this act. If you want to read more about it, here is a website that had a real great summary.
For those of you who have heard about the 'fiscal cliff' scenario, and wanted to understand it, I will provide a very short description of my understanding. As most of you know I do not watch the news or read the paper. I do most of my research on the IRS website and from CPA associations. Thus, this might be a little technical.
A mixture of the extended Bush tax cuts expiring and an agreement to reduce the deficit (the amount of money that the government spends over what it receives in revenue) would have caused an expected recession, though minor, in 2013. The idea was that increase revenue from the expiration of the tax cuts would increase revenue by nearly 20%, and deficit spending would be reduced by .25%. The American Taxpayer Relief Act, mentioned above, undid most of this. The reduction in government spending was expected to cause unemployment to rise, since the government is a very large employer. Cutting employment for some government workers would have been neccessary to reduce the budget deficit while maintainting Social Security pay, medicare benefits, and military/veteran pay. Because the 'fiscal cliff' scenario was basically avoided the budget deficit spending will only decrease by $157 billion instead of the projected $487 billion.
The bottom line is that this news does not affect many people since it was avoided, and if you read between the lines, the tax cuts that were kept for for the super rich (people with estate assetts in excess of $1,000,000). The tax on these estate assetts are the taxes that would have made up the nearly 20% increase in revenue. Many of the other Bush tax cuts for the lower and middle class did expire.
4/9/12 How to Pay the IRS and FTB
Near the end of tax sesason we process a lot of tax returns that have balances due. It is helpful to be able to tell people where and how to pay the IRS and FTB. Generally, if you owe money we will print you a payment voucher that has your amount due, where to send it, and all of your identifying information. If your balance due is relatively low (under $1,000) we wil usually offer you the option of having it directly withdrawn from your checking account after the return is processed. With this option you can select what date you would like the funds to be withdrawn. In addition to these two options you can also pay using a credit/debit directly through the IRS and FTB sites. Below is a link to these options.
2/17/12 Dirty Dozen Tax Scams
Here is an article from the IRS about the most prevelant tax scams that you should be on the lookout for. Identity theft, free money, and phishing scams are always in full swing during tax season because people are more likely to be handing out their social security number and personal information during this time. The key to all scams is that they prey on the lack of knowledge of the target and on the natural greed of people. Please read the article and be careful.
12/31/11
The new year is coming and I hope you are getting ready for tax season. The IRS has some helpful items on their website to help you out.
IRS - Where is my refund?
IRS - 2012 Withholding Calculator
10/01/11 Final Filing Deadline
The final filing deadline is coming up. Please give me a call if you are ready (or not) to file. Even if you do not have all of your paperwork ready I can help you with that part. Filing on time (even by the second extension) is key when dealing with businesses or when you have an outstanding payment arrangment with the IRS. Not filing tax returns is a crime and can be used by the IRS and FTB as a reason to move forward with garnishments and property seizures!
All of that is a little scary! The point is that if you have not filed, it is time to do so. Give me a call and we will work together to make it happen.
04/06/11 Sales Tax Automatic Deduction Proven
Many people do not know that they are entitled to an automatic deduction on thier schedule A of Sales Tax paid for the year. Most people do not keep track of all the sales tax they pay because it is a very time consuming process. If you do not keep track of it you will recieve an automatic deduction based on your income. There is a simple percentage used to figure this. Some might ask, 'how accurate is this percentage'? Well, as you can see from the picture, my client kept track of his sales tax all year and was a mere $18.00 below the freely given deduction built into the schedule A.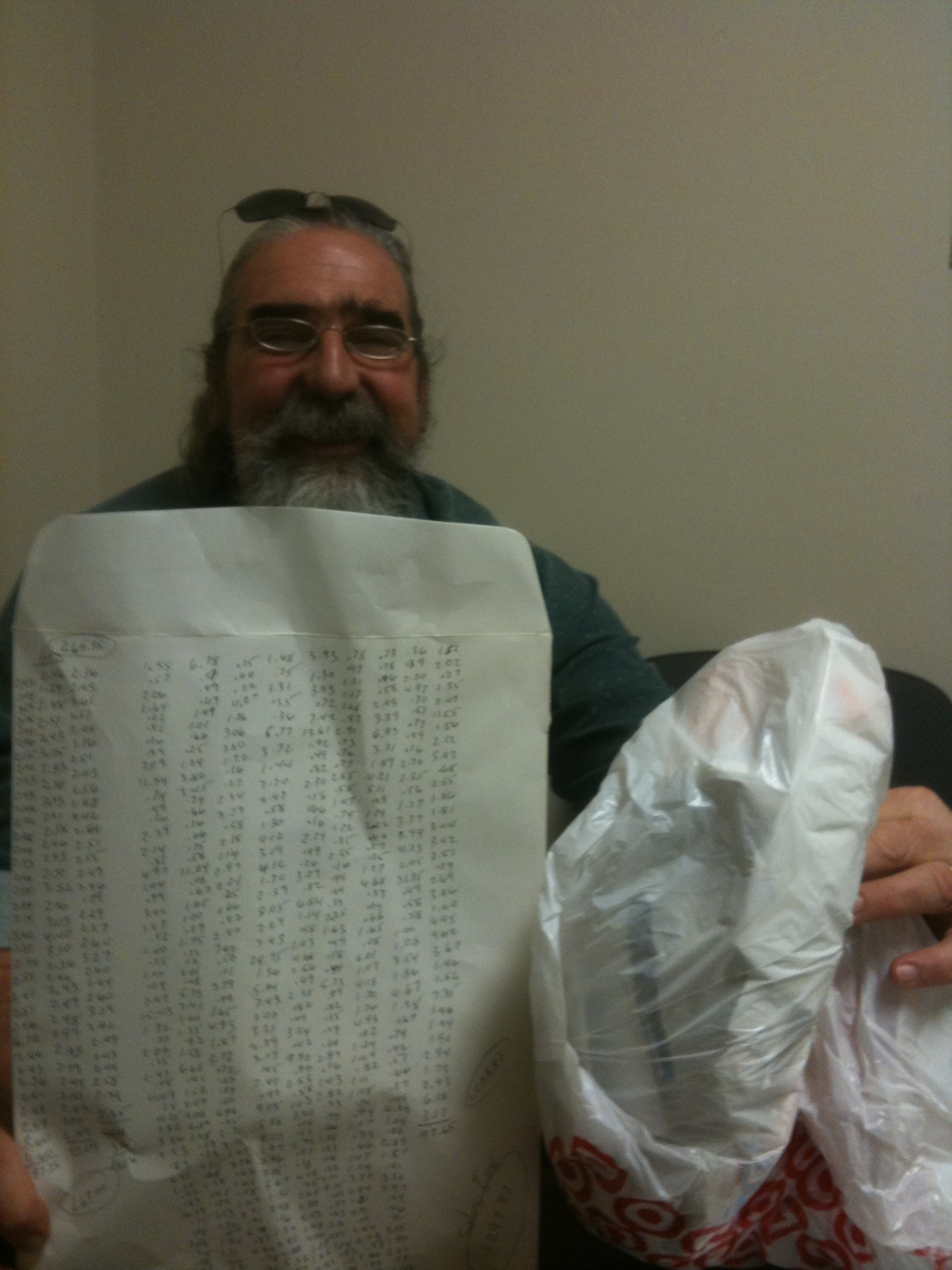 Maybe the IRS and FTB do know what they are doing after all.
---
01/04/11 Tax Season Delayed
Thanks to the new tax law changes that have taken affect as late at December 23, 2010 certain tax payers will have to wait until mid to late February to file their tax returns. If you fall into one of these three categories then you will be stuck until the IRS is done reprogramming their system. 1. Anyone who files a Schedule A (long form), and claims the state sales tax deduction (this is automatic on the Schedule A). 2. Anyone claiming the 'Higher Education and Fees Deduction' which is a new credit for post secondary school costs. 3. Anyone claiming 'Educator' expenses on the Schedule A. If you do not fit into one of these categories, I am ready to prepare your return as soon as you have all of your documents together.
However, do not let this stop you from making an appointment to have you tax return prepared. All of the tax forms will be finalized as of 1/14/11 (with a few exceptions), so we can prepare your return and be ready to file, whenever the IRS opens the efile system. Simple returns will be allowed to be filed 1/14/11, and most of the rest are scheduled to be allowed 2/14/11. If you are in a real rush, we can always paper file your return to give you a slightly faster return.
---
12/31/10 2010 Tax Year Letter & Check List
I have sent out an email and a letter with the tax year 2010 tax letter and check list, and I have also posted it here if you need to refer to it for any reason.
2010 Tax Letter
2010 Tax Check List
---
12/27/10 IRS changes employee's Social Security Rates
On 12/17/10 The IRS officially released the payroll tax changes that are the result of the 'Tax Relief, Unemployment Insurance Authorization, and Job Creation Act of 2010 (H.R. 4853)', of which the net effect will be a 2% reduction of the employees portion of Social Security paid from payroll withholdings in 2011. Apparently this temporary reduction will not reduce the employee's lifetime Social Security benefits. The current withholding rate is a standard 6.2% of all taxable wages, and it will be reduced to 4.2% as of January 1, 2011. Employer's usually match what the employees pay in Social Security, but for 2011 they will be required to continue to pay 6.2%, while employees only pay 4.2%.
The income tax withholding tables will also be adjusted to allow employee's to take more pay home, but the annual income tax will not be affected, which may mean that many employees will owe the IRS money at the end of 2011. For 2009 and 2010 this is supposed to be offset by the 'Making Work Pay' credit, but that credit will not be available in 2011.
For the self employed there will also be a reduction in the SE Tax paid on your net earnings equivalent to the 2% reduction that employees are recieving (from 12.4% to 10.4%) for 2011.
---
12/1/10 Start Getting Ready for Tax Season 2010
The 2010 tax season is approaching so now is a good time to discuss how you should prepare. While tax season officially begins on February 2nd of the following year, the IRS and most tax software allows tax returns to be filed on January 1st. If you have a simple return with just a few W2's then getting your return done early is easy. However, if you have a small business return that requires you to add up expenses or bundle up your receipts then it is a good idea to get started before the year even ends.
For most of my clients I recommend getting a shoe box or dedicating one office drawer to receipts and important documents. Well, in December you should open that drawer, pull out the contents and start organizing your receipts and other documents. You will not get the official W2's and 1099's till late January, so you probably will not be filing early, but when those documents come in you will be ready to go. Put the documents together by type list them on a sheet of paper or spreadsheet and total them up. The totals is what you bring in to have your tax return prepared.

Below is a list of documents that you should keep an eye out for and put in your tax file when they come in.
W2's (wage income report)
1099-misc (contractor income report)
1099-int (from your bank or mortgage company showing how much interst you earned)
1099-R (retirement income)
1098 (interest paid report, usually from your mortgage company)
Closing (HUD1) statement for any newly purchases property
---
11/25/10 IRS Video about the Small Business Health Care Tax Credit
The IRS is allowing small business owners to get back, as a 'credit', up to 35% of premiums paid on behalf of employees for health care premiums. The basic qualifications are: Business has fewer than 25 employees, employer pays at least 50% of health care premiums for the employee, and the average wage of those employees is less than $50,000. If you meet these qualifications then you qualify for the credit. The calculation of the credit is fairly simple and there is a draft of the 8941 form on the IRS website.
Effect: After reviewing the details of the draft form 8941 it seems that the IRS is giving employers 35% of their premiums back in a credit. The form does not ask for the percentage of the premiums that is paid by the employees (though you are only supposed to claim the credit if the company pays at least half of the premiums). In essence employers that pay 50% of the premiums should be getting back
If you would like to learn more about this credit or see the updates that the IRS posts please visit the page dedicated to this topic on the IRS website.
---